The most wonderful time of the year is almost here, but first basketball fans are treated to the party before the party: conference tournaments.
This week, dozens of teams will be playing for seeding and tournament berths in their final chance to impress the committee before Selection Sunday. There are 36 auto bids up for grabs via conference tournaments, and eight will be given out among the AAC, ACC, Big Ten, Big 12, Big East, Mountain West, Pac-12 and SEC, the headlining tournaments for the week before the madness.
With each of these tournaments about to tip off, let's look at what we can expect from each and what games, players and storylines to watch.
AAC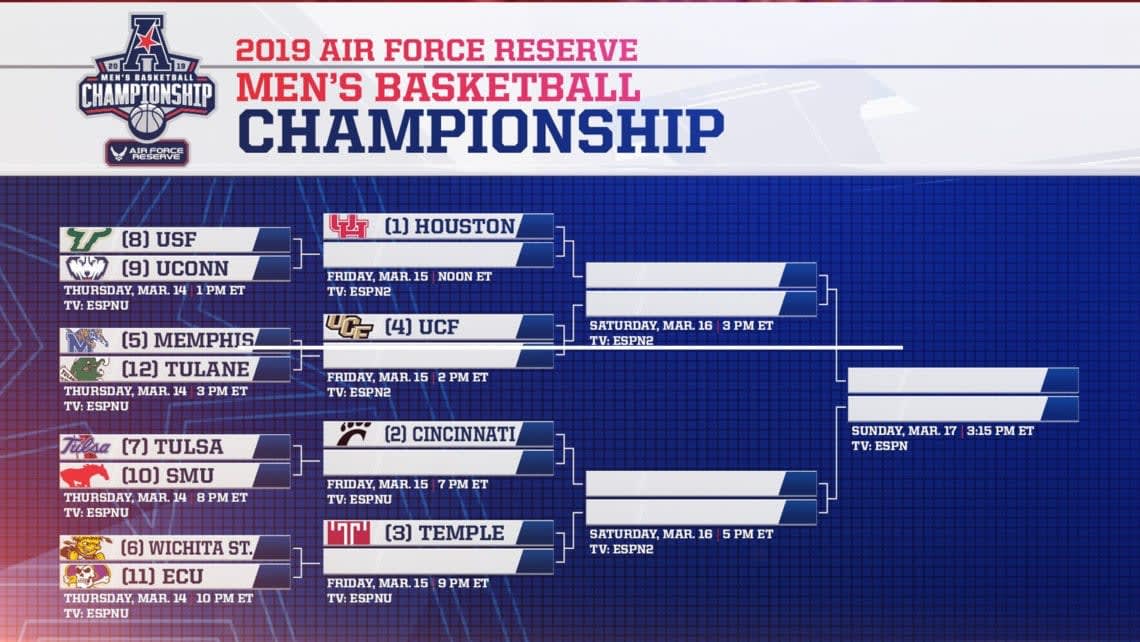 BUBBLE BREAKDOWN
In – 1 Houston, 2 Cincinnati, 4 UCF
Work To Do – 3 Temple
Auto Bid Needed – 5 Memphis, 6 Wichita State, 7 Tulsa, 8 South Florida, 9 Connecticut, 10 SMU, 11 East Carolina, 12 Tulane
THE FAVORITES
Although you could make cases for UCF or Cincinnati, Houston is undoubtedly the favorite here. The Cougars have operated on another level all season, losing only twice and dominating most of the AAC competition it faced. It walloped Cincinnati on the road to close the season Sunday, a message to the rest of the AAC of what this team can do. It's not untouchable of course, but if you have to choose a favorite from this field, it's a no-brainer.
DARK HORSE
Not only is this team better than it gets credit for, the tournament is also in its city. Metrics assert Memphis is comparable to Temple, a team vying for an at-large NCAA Tournament bid, and the AAC Tournament will take place at the FedEx Forum in Memphis, the Tigers's den. Memphis shouldn't have issues in its first game against Tulane, but it would get much more difficult in the quarterfinal versus UCF. The Tigers beat the Knights when they came to FedEx Forum in late January, and Jeremiah Martin is playing some great ball, putting up 19.7 points per contest. This team didn't get enough quality wins throughout the season to be in at-large discussions, but it's plenty good enough to go on a run in this tournament.
BEST SET MATCHUP
9 Connecticut vs 8 South Florida
Although UConn finds itself in the bottom half of the standings, this was a positive year under first-year head coach Dan Hurley. This is the same team that knocked off Syracuse early in the season and played several tournament-caliber teams close otherwise. On the other side, the Bulls also showed encouraging growth, particularly with the emergence of sophomore guard David Collins. Neither of these teams have enough to win this tournament and probably won't even win another game after this one, but don't tell them that. Both teams will show up for this one and fight like their season depends on it.
BEST POTENTIAL MATCHUP
4 UCF vs 1 Houston (Semifinal)
Houston has lost two games all season and only dropped one home game on the year. UCF secured one of those wins and is the only visiting team to win in Hofheinz Pavilion. Tacko Fall creates matchup nightmares against every team UCF plays, and the Knights's guards can score at ridiculous clips. Houston is still an elite defensive team, though, and any game between these two will be a knockdown, drag out fight, just like it was when they played most recently. Anyone who watched UCF's 69-64 win on March 2 knows how incredible a third meeting between these teams could and likely would be.
NBN'S PICK
1 Houston over 3 Temple
Houston is the best team in this country, no question. The only danger I see before the final is from UCF, but I have to lean toward the Cougars because of their body of work. Cincinnati is dropping games at the wrong time of the year, and Temple will be desperate to show the committee it belongs in the tournament. Beating the winner of Wichita State-East Carolina in the quarterfinals wouldn't do much, but conquering the Bearcats in the semifinals would. The Owls beat Houston early in the season as their best win of the year, but lightning will not strike twice. The Cougars are too complete, too strong and too composed of a team to slip up like that again, and they take home the 2019 AAC Tournament title.
ACC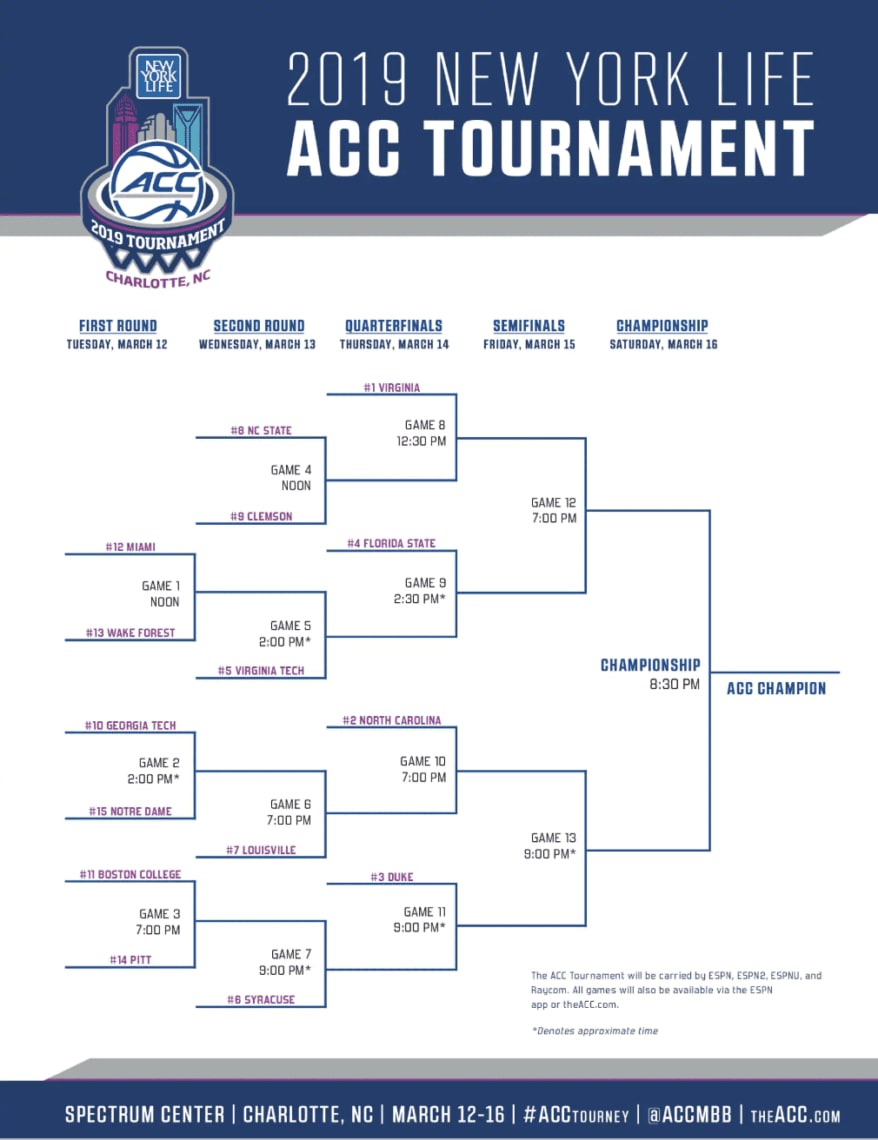 BUBBLE BREAKDOWN
In – 1 Virginia, 2 North Carolina, 3 Duke, 4 Florida State, 5 Virginia Tech, 7 Louisville
Work To Do – 6 Syracuse, 8 North Carolina State, 9 Clemson
Auto Bid Needed – 10 Georgia Tech, 11 Boston College, 12 Miami, 13 Wake Forest, 14 Pittsburgh, 15 Notre Dame
THE FAVORITES
Virginia and North Carolina shared the regular season title, both finishing 16-2, and split the top two seeds. Duke grabs the third seed, but with the possibility of Zion Williamson returning, this team gets even more dangerous. When at full strength, all three of these teams dominated the league. All three are in the mix for a No. 1 seed in the NCAA Tournament, and if one of them wins this tournament, it will be a lock for the one line.
DARK HORSE
Virginia Tech will be reportedly be without Justin Robinson, its star guard who has been held out for weeks with a foot injury. The team struggled without him to start but have hit a stride lately, defeating Duke, playing tight with Virginia and at Florida State (a program that has lost three home games in roughly two years) and taking care of the bottom feeders on the schedule. Kerry Blackshear Jr. has become a monster down the middle, and his frame and shooting ability make him a difficult matchup for everyone. Nickeil Alexander-Walker has turned it on, too, scoring in double figures in 10 of Virginia Tech's last 11 games, establishing himself as one of the premier scorers in the ACC. With the most favorable possible quarterfinal matchup and the emotions of a potential game with arch rival Virginia in the semifinals, I think this is the most likely to win the tournament outside of the top three.
BEST SET MATCHUP
9 Clemson vs 8 North Carolina State
Both of these teams are desperate for a win to get into the NCAA Tournament, and both could use another huge victory against a Virginia-like team to lock them up for Selection Sunday. But only one of them is going to get that chance, and one that doesn't is going to have a very long week until the bracket it revealed.
BEST POTENTIAL MATCHUP
3 Duke vs 2 North Carolina (Semifinal)
This is a tough decision, with possible games between Virginia and either of these two teams in the final being equally worthy options. But you can't deny a third meeting of one of the biggest rivalries in all of sports, and you can't deny the possibility of a fully healthy Duke playing the hated Tar Heels, something we haven't seen yet this season. Sorry, Virginia, it's nothing personal.
NBN'S PICK
3 Duke over 1 Virginia
Operating under the assumption Zion Williamson will return and everyone else stays healthy, Duke shouldn't have many issues with anyone other than UNC and Virginia. North Carolina swept the regular season series, but Duke was without Williamson in both matchups, opening up the lane for a Tar Heels team that loves to push in transition. Adding him into the mix would not only make it more difficult for North Carolina to run as freely toward the hoop, it would also give Duke an added elite scoring option. The Blue Devils swept Virginia, both times with Williamson, and I lean in Duke's favor for a possible third meeting.
Big Ten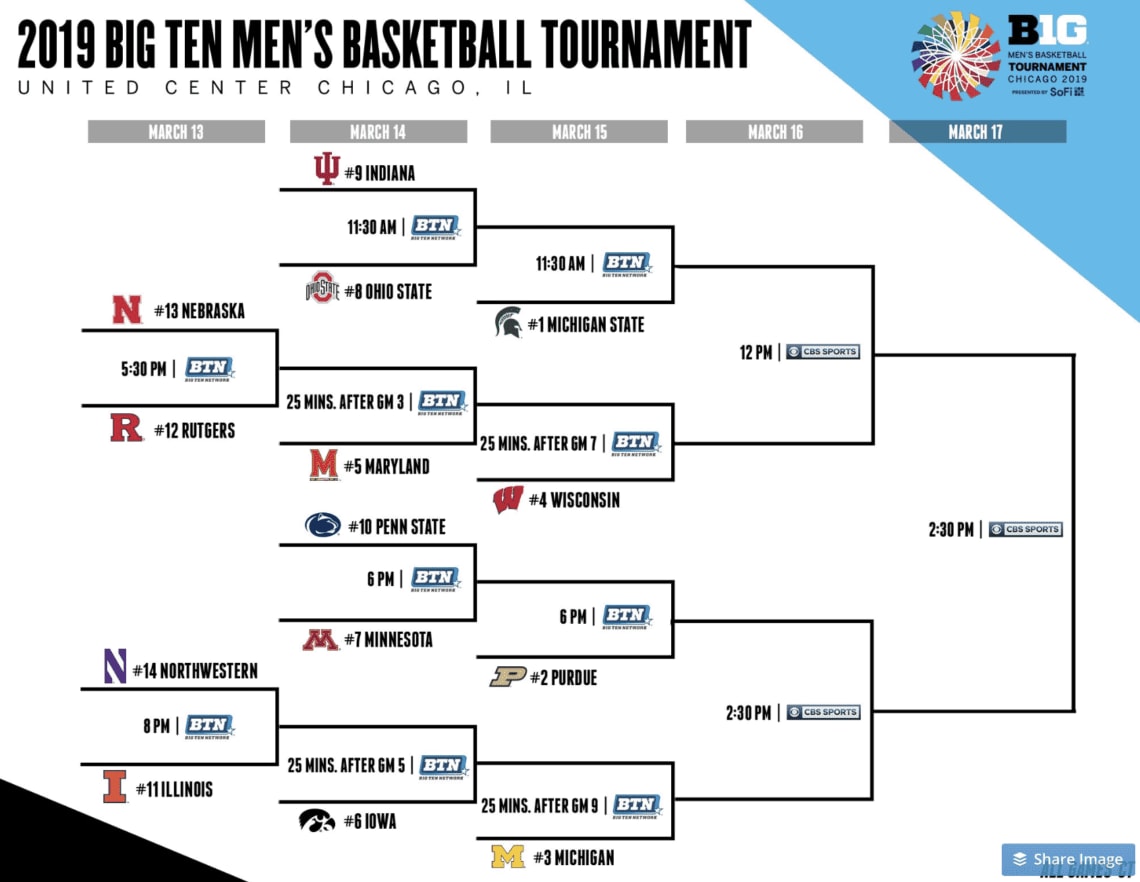 BUBBLE BREAKDOWN
In – 1 Michigan State, 2 Purdue, 3 Michigan, 4 Wisconsin, 5 Maryland
Work To Do – 6 Iowa, 7 Minnesota, 8 Ohio State, 9 Indiana
Auto Bid Needed – 10 Penn State, 11 Illinois, 12 Rutgers, 13 Nebraska, 14 Northwestern
THE FAVORITES
Without question, one of Michigan State, Michigan and Purdue is expected to win this tournament. The Boilermakers came on later in the season, but the Spartans and Wolverines have been on top of the Big Ten all year long. Michigan is a defensive juggernaut and efficient offensively as well, with the likes of Ignas Brazdeikis and Jordan Poole driving the scoring. Purdue favors its offense, in part because of Carsen Edwards's 23.4 points per game. Michigan State is the most balanced of the three, but injuries took away two starters during the grind of the season. Cassius Winston is still healthy, though, and with a player of his caliber, he might be all they need.
DARK HORSE
This is a conference built for dark horses. It's difficult to choose one, but I'll go with Penn State. This is a team that started 0-10 in conference but did so well from the start of February on, it clawed itself into 10th and a bye into the second round. It's a big deal to avoid having to play the opening day, and it also means a more favorable second round matchup for the Nittany Lions, facing bubble team Minnesota as opposed to established tournament team Maryland. During the run to close out the regular season, Penn State picked up wins against Michigan and Maryland and narrowly missed at Purdue and at Wisconsin. Lamar Stevens has come alive, averaging nearly 20 points per game, and he and the rest of his team are extremely dangerous and very capable of beating anyone in this league.
BEST SET MATCHUP
9 Indiana vs 8 Ohio State
Now, this could be a snoozer if Kaleb Wesson isn't back from his suspension, but it could also be a high-drama clash between two bubble teams that cannot afford to lose. Indiana couldn't win a game for much of the conference schedule, but now the Hoosiers have won four straight, thrashing inferior competition and taking out Wisconsin and Michigan State in the process. Somehow, Ohio State stormed back against Wisconsin on Sunday and forced overtime, but it couldn't get the win it needed to feel comfortable heading into the Big Ten Tournament. Now, the Buckeyes will be desperate to win, and a desperate team is a dangerous team, with or without Wesson.
BEST POTENTIAL MATCHUP
5 Maryland vs 4 Wisconsin (Quarterfinal)
I could have picked games between a mix of Purdue, Michigan and Michigan State, but instead of going with the rubber match between two teams a step below those three. Wisconsin and Maryland played two fantastic games in the regular season, each winning the home date in scrapping, tight battles. These teams are very evenly matched, with a lot of scoring coming down low from Ethan Happ and Bruno Fernando, and good guard play that can control the tempo of the game from Brad Davison, D'Mitrik Trice, Anthony Cowan and Eric Ayala. Whichever team wins this possible game will be extremely worn down for the semifinal, because they will beat the hell out of one another.
NBN'S PICK
1 Michigan State over 3 Michigan
Michigan State is the strongest team in this league, even without Joshua Langford and Nick Ward (which makes you think how scary this team would be with them). While the winner of Indiana-Ohio State could be dangerous as a desperate team, the Spartans are good and experienced enough to handle that. As the top seed, it can allow Purdue and Michigan to take care of one another and deal with whomever survives. Michigan's defense, particularly the ability of Zavier Simpson and Jon Teske to handle Carsen Edwards off on-ball screens, will be the difference against Purdue and send it to the Big Ten Final and a chance at revenge. Michigan State swept the series with Michigan, and I don't see that changing. Cassius Winston is too good, and the supporting cast plays sound enough basketball to put the Wolverines on their heels.
Big 12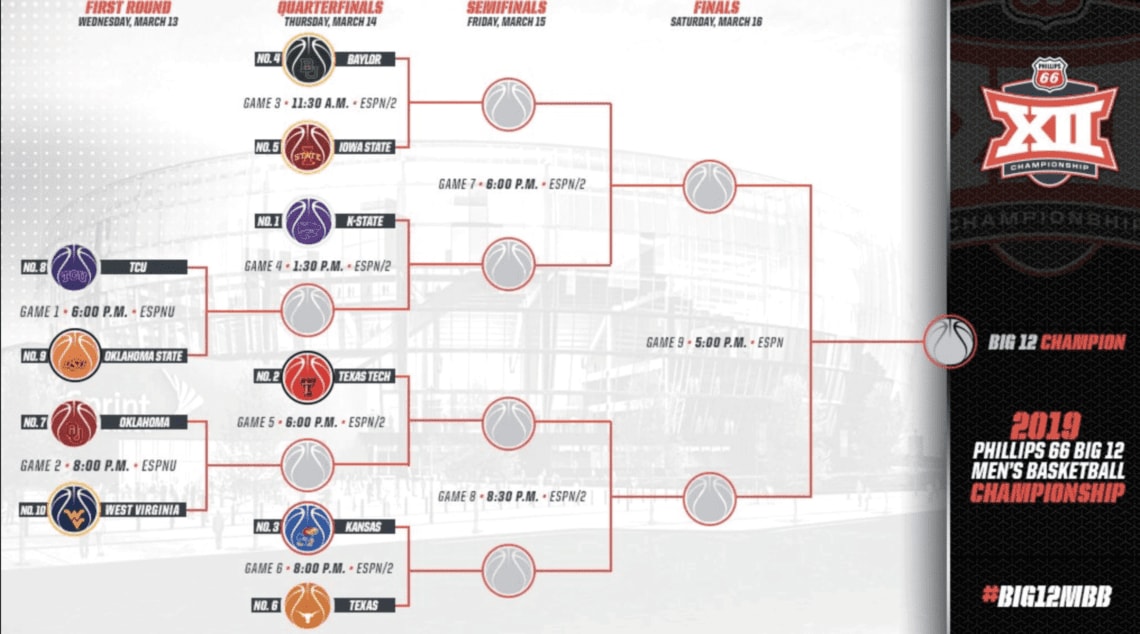 BUBBLE BREAKDOWN
In – 1 Kansas State, 2 Texas Tech, 3 Kansas, 5 Iowa State
Work To Do – 4 Baylor, 6 Texas, 7 Oklahoma, 8 TCU
Auto Bid Needed – 9 Oklahoma State, 10 West Virginia
THE FAVORITES
The two teams that shared the regular season crown, Kansas State and Texas Tech, ending Kansas's 14-year reign as the Big 12's king, come in as popular picks to grab the tournament title to boot. Both bring elite-level defense to the table and a handful of great scorers, like Barry Brown Jr. (KSU) and Jarrett Culver (TTU), who can load up the box score on the other end. Kansas might have had its regular season championship streak broken, but this team still has enough talent to win three games in three days and will still carry a target on its back.
DARK HORSE
The Cyclones have been in a serious slump for weeks, losing six of their last eight to close the regular season with some ugly losses in the mix. But Iowa State still sports one of the most talented rosters in this league. When it's on, Iowa State can score with anyone in the Big 12, but the defense is the question mark. If it can figure out how to hold opponents below 70, and that's a big if, watch out.
BEST SET MATCHUP
6 Texas vs 3 Kansas
No team has ever earned an at-large selection with 16 losses or a .500 or worse record, so unless the Longhorns want to run with those odds, they need to win this game. They're certainly capable of it, too. Texas has wins over North Carolina, Purdue, Kansas State and Iowa State, and went 1-1 with Kansas, winning at home, 73-63, and narrowly missing out on a sweep, falling in Lawrence 80-78.
BEST POTENTIAL MATCHUP
3 Kansas vs 1 Kansas State (Final)
Nothing against Texas Tech, but it's difficult to not look forward to a possible third Sunflower Showdown, especially if it would be for ultimate bragging rights. Kansas State was instrumental in ending Kansas's regular season title run, and you couldn't envision a better season in Manhattan if the Wildcats could also beat the hated Jayhawks for the conference tournament championship. On the other hand, Kansas could avenge its fallen streak and take back some bragging rights from its in-state rival. You can't say no to a matchup like this.
NBN'S PICK
2 Texas Tech over 1 Kansas State
The metrics back this team as the best the Big 12 has to offer, and the eye test does, too. The Red Raiders play a stifling and disciplined defense, with perfect rotations and charges being drawn left and right. For a while, the offense was an issue for Texas Tech, but it hasn't been so in the last few weeks. In its nine-game winning streak to close the regular season, Tech broke 80 six times, and guards Davide Moretti and Matt Mooney have become viable alternate scoring options, taking some of the load off Culver's shoulders. You cannot deny this team with how it has played heading into the postseason.
Big East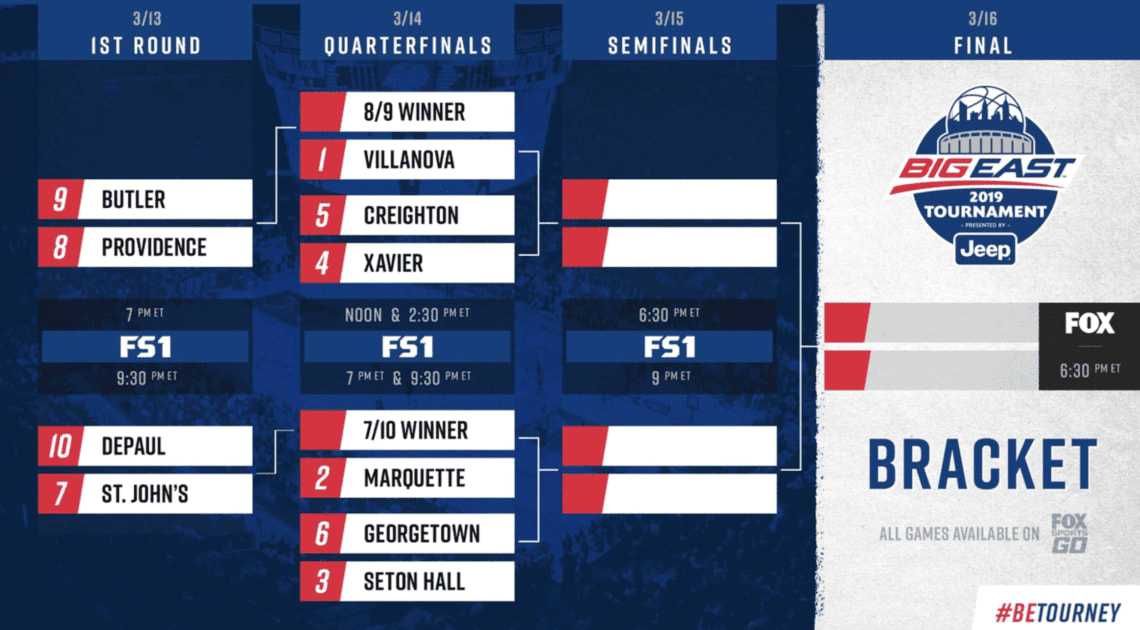 BUBBLE BREAKDOWN
In – 1 Villanova, 2 Marquette
Work To Do – 3 Seton Hall, 4 Xavier, 5 Creighton, 6 Georgetown, 7 St. John's, 8 Providence
Auto Bid Needed – 9 Butler, 10 DePaul
THE FAVORITES
Can it be anyone other than Villanova and Marquette? In a wild year in the Big East, these were the only two teams to maintain any real level of consistency, and the standings back it up. The Wildcats ended victorious in the end, going 13-5 to Marquette's 12-6, the teams finishing four and three games ahead of the rest of the pack, respectively. Neither are dominant on a national scale, but there's plenty to like in both teams. Villanova has won two of the last three national championships and three of the last four Big East Tournaments, including the last two, and you don't do that without some incredible coaching. Marquette has one of the best players in the country in Markus Howard, whose 25 points per game is sixth in the NCAA. Both are beatable, especially in this Big East, but they're clearly the two best teams this conference has to offer.
DARK HORSE
When you have Myles Powell on your team, you're always going to have a chance. Seton Hall is one of the stranger teams in the country, let alone this conference. It finished the season with home wins against Marquette and Villanova to greatly strengthen its NCAA Tournament hopes, and also holds wins against Kentucky and at Maryland from the non-conference. But this same team lost three in a row before defeating Marquette earlier this week, went on a four-game skid in January and got swept by DePaul. But Powell can take over games all by himself, and he has in many of Seton Hall's wins. It wouldn't be foreign to see an elite guard carry a team to a Big East Tournament title. I'm pretty sure we've seen it before.
BEST SET MATCHUP
6 Georgetown vs 3 Seton Hall
These teams met in D.C. on March 2, and it took two overtimes to determine a winner. The Hoyas came out on top, 77-71, but Powell dropped 35, only five fewer than he put up in Seton Hall's 90-75 win in the first matchup. Georgetown absolutely has to win to keep its at-large hopes alive, and while the Pirates could lose and still get in, a win would leave little doubt. Any time you can get Powell, Mac McClung and James Akinjo on the same floor, you're in for a treat.
BEST POTENTIAL MATCHUP
3 Seton Hall vs 2 Marquette
Of course, a showdown between the conference's top two in the final would be huge, but I can't enough of Howard versus Powell. They're the two most dynamic playmakers and scorers in this conference, and Powell has shown up in both meetings with the Golden Eagles, scoring 55 combined points. Howard didn't, though, posting 26 in Marquette's early win and only six in its loss this week. It would be awfully difficult to keep him quiet again, but could the Pirates do it?
NBN'S PICK
1 Villanova over 3 Seton Hall (Final)
This is one of the tournaments riper for a random winner, but I'm going to bet on the team with Jay Wright running the show. As mentioned before, the Wildcats have won three of the last four Big East Tournaments, including the last two, and have known how to navigate in March during the current era. Now, this team is not as strong as its past iterations, but neither is this conference. This team is well rounded enough that it can keep it together in a most-likely chaotic tournament.
Mountain West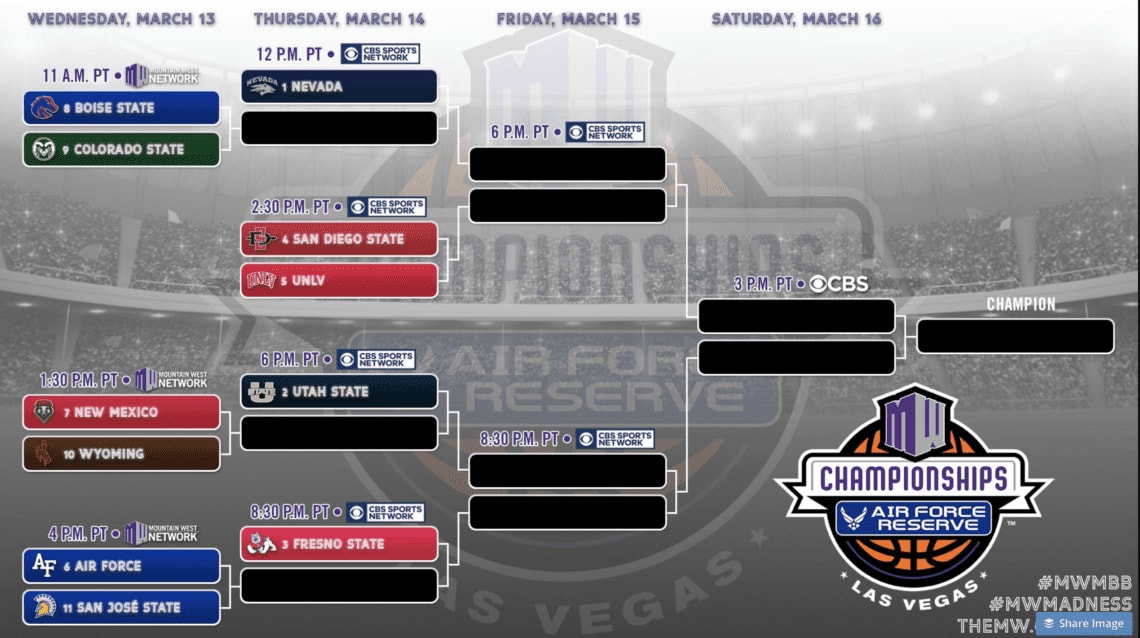 BUBBLE BREAKDOWN
In – 1 Nevada
Work To Do – 2 Utah State
Auto Bid Needed – 3 Fresno State, 4 San Diego State, 5 UNLV, 6 Air Force, 7 New Mexico, 8 Boise State, 9 Colorado State, 10 Wyoming, 11 San Jose State
THE FAVORITES
It doesn't take an expert to know Nevada and Utah State are the favorites for this one. These two teams have been at the forefront of the league from the beginning, Nevada especially, and will be expected to battle for the conference tournament title in the same way they fought for the regular season crown they shared.
DARK HORSE
Fresno State finished a distant third, clearly below the Wolfpack and Aggies, but established itself as the best of the rest throughout the season. Other than games against Nevada and Utah State, this squad only dropped two conference games and even knocked off the Aggies, 82-81, when they came to town Feb. 5. This team boasts two great scoring guards in Braxton Huggins and Deshon Taylor, averaging 19.3 and 18.4 points per game, respectively, and it's the third-best defensive team in the conference according to KenPom's defensive efficiency rating. It's not likely that a team other than Nevada or Utah State wins this tournament, but if it does happen, this is the next-best team.
BEST SET MATCHUP
5 UNLV vs 4 San Diego State
Given the way this bracket is designed, this isn't a hard choice. This is the only set matchup between two teams with above .500 conference records, and it's fairly evenly matched. San Diego State took both regular season games, but in the second matchup in Las Vegas, UNLV came within a point of knocking off the Aztecs, holding them to only 59 points, a big improvement from the 94 San Diego State scored on the Runnin' Rebels earlier in the season. Guess where the MWC Tournament is held? You guessed it: Las Vegas.
BEST POTENTIAL MATCHUP
2 Utah State vs 1 Nevada
They have been the best of the conference all year long, and after the drama following Utah State's 81-76 win over Nevada on March 2, a third meeting is something every neutral fan wants. Nevada ran through the Aggies in the first game, 72-49, holding Sam Merrill to 16 points on 6-of-14 shooting. But that Utah State team is not the same that has evolved since, and its win in the rematch proved it to the country. Merrill has scored 29 or more points five times since Jan. 30 and posted that amount against Nevada in his team's win. Would the Wolfpack be able to keep him in check? Could Jordan Caroline bounce back from his seven points and 3-of-15 shooting in the last meeting? The world needs a rubber match.
NBN'S PICK
1 Nevada over 2 Utah State (Final)
If Jordan Caroline has even an average game, Nevada wins in Logan, and I don't see him playing that poorly again. This Nevada team is too loaded with scoring options for most of the Mountain West to contend with, and although Utah State was able to overcome them at home, I don't see it on a neutral floor. The scoring ability of Caleb Martin and Caroline, as well as Cody Martin's distribution and Jazz Johnson's outside shooting, and what I would bet on over whatever the rest of the Mountain West can throw.
Pac-12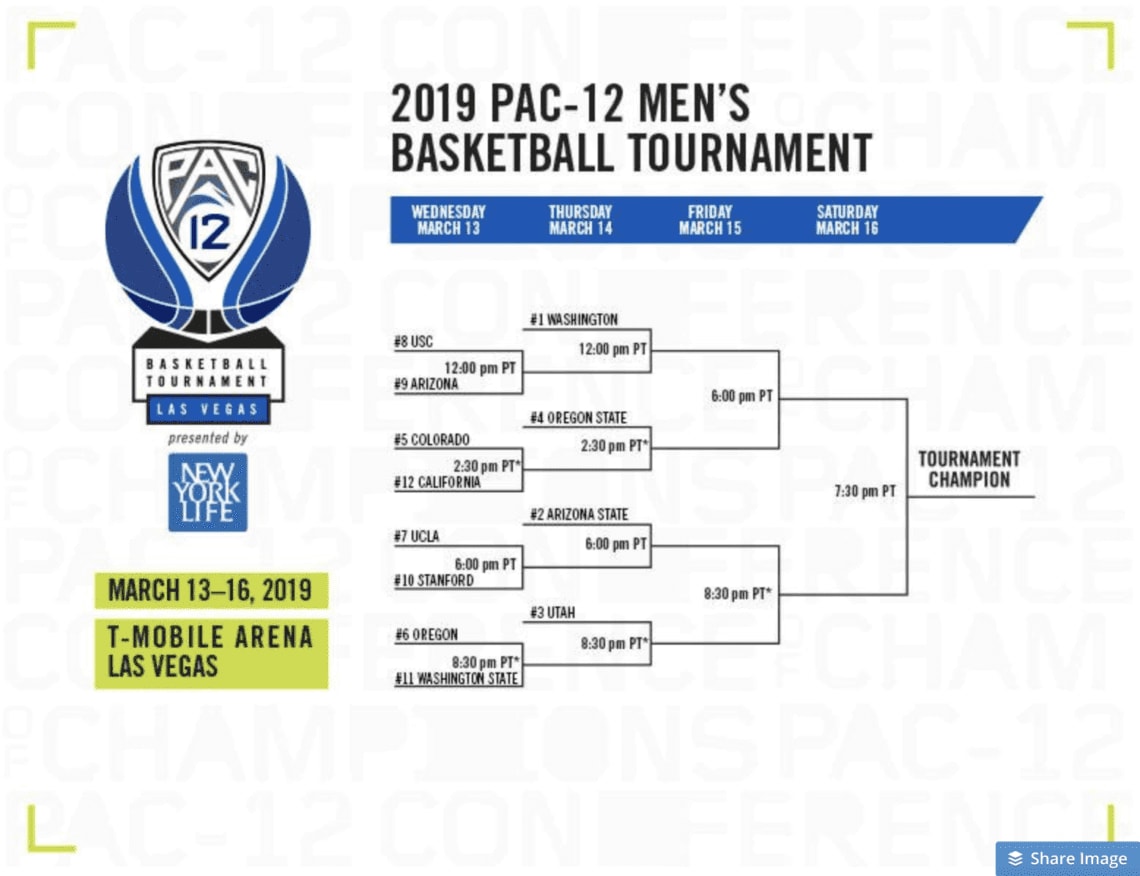 BUBBLE BREAKDOWN
In – None
Work To Do – 1 Washington, 2 Arizona State, 6 Oregon
Auto Bid Needed – 3 Utah, 4 Oregon State, 5 Colorado, 7 UCLA, 8 USC, 9 Arizona, 10 Stanford, 11 Washington State, 12 California
THE FAVORITES
Although it's in the midst of a slump, Washington dominated this league for the majority of the season, clinching the regular season titles weeks before the final game. Even with its two losses in four games, the Huskies still finished the year three games up from second place Arizona State. This team is 17th in adjusted defensive efficiency according to KenPom, utilizing the zone Mike Hopkins learned during his time at Syracuse, with Matisse Thybulle terrorizing opposing teams on the perimeter. Arizona State is also in the mix as the only other team receiving serious tournament consideration at this point. The Sun Devils have shown the highest highs of anyone in the conference, including a win over Washington, 75-63, in the only meeting between the two. They've also shown the lowest lows, like with blowout losses at Oregon, at Stanford, at Vanderbilt and against Washington State at home. You never know what you're going to get with Arizona State.
DARK HORSE
Nobody has talked about Colorado all season, but could the Buffaloes be hot at the right time? They've won their last three and eight of their last 10, including wins against Oregon, Arizona State and Utah. There is a concern that Colorado can't play at the same level away from home, but let's be real: this is not a strong conference. Every one of these teams has serious weaknesses, but one of them has to win. Colorado wouldn't have to face a tournament-caliber squad until at least the semifinals, and it ranks fourth in the Pac-12 in KenPom, not far back from the top three of Washington, Oregon and Arizona State, in that order. Add in the desperation of needing the auto bid, and why not the Buffaloes?
BEST SET MATCHUP
12 California vs 5 Colorado
This might seem like an odd answer, especially considering it took California two months to win a conference game. But the Bears have won three in a row, including a 76-73 shocker over regular season champion Washington to kick it off. Colorado also comes in playing well and is selected as my dark horse pick, but why can't Cal pull off another upset? In a tournament with no great teams, a bottom seed could pull something off.
BEST POTENTIAL MATCHUP
6 Oregon vs 1 Washington (Final)
This might seem like an odd choice, but after watching Oregon and Washington play in the final game of the regular season Saturday, I wouldn't mind seeing it again. These are both defensively dominant teams, with Oregon coming in as the 25th-most defensively efficient team in the nation according to KenPom, and it showed in the two's 55-47 defensive struggle that the Ducks came away with. The first game was dissimilar in outcome only, with Washington edging out that one, 61-56. Both teams have serious offensive deficiencies, though, so if you need to see the ball go through the basket a lot to enjoy a basketball game, this is a matchup you'll dread. But if you want to see a defensive chess match between two dueling coaches, root for this final.
NBN'S PICK
5 Colorado over 2 Arizona State
This conference is such a mess, the truth is I don't have the slightest clue what's going to happen. But I do know every team is beatable and every team is capable of beating anyone, so hey, why not have Colorado repeat what it did in 2011 and grab the auto bid? If you think Washington is a shoe-in because of how well it played most of its conference schedule, you're in for a rude awakening. And picking Arizona State to the final is a risk considering how Jekyll and Hyde the team is. The most surprising outcome would be a chalk bracket.
SEC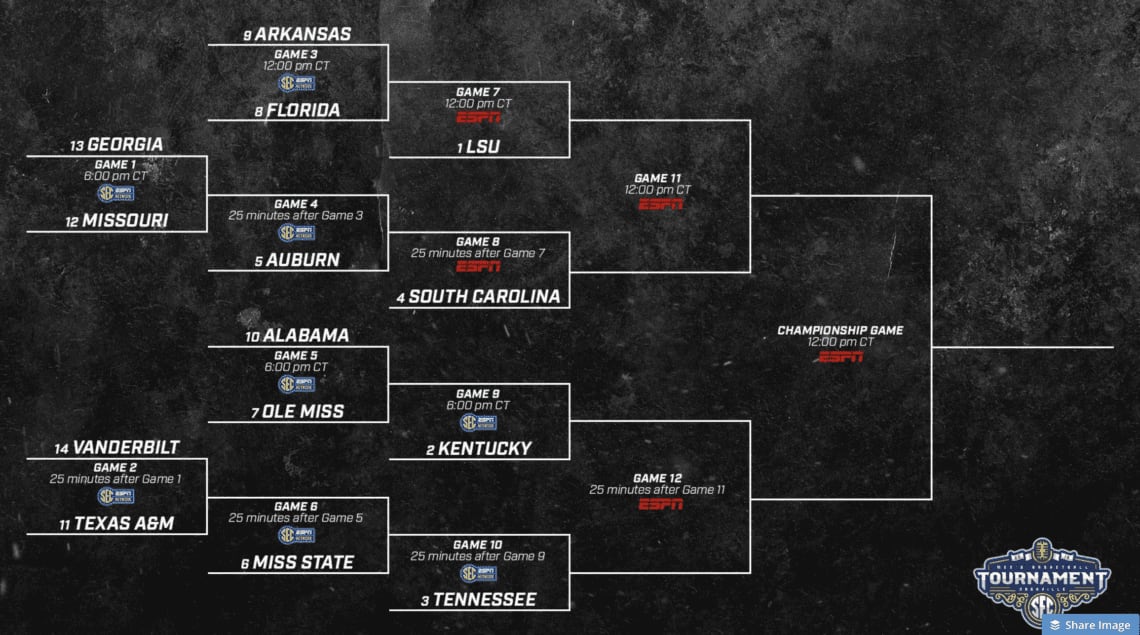 BUBBLE BREAKDOWN
In – 1 LSU, 2 Kentucky, 3 Tennessee, 5 Auburn, 6 Mississippi State
Work To Do – 7 Ole Miss, 8 Florida, 9 Arkansas, 10 Alabama
Auto Bid Needed – 4 South Carolina, 11 Texas A&M, 12 Missouri, 13 Georgia, 14 Vanderbilt
THE FAVORITES
The SEC is led by the three-headed monster of LSU, Tennessee and Kentucky. The three have conquering what has been a pretty strong and deep conference, mostly only losing to one another all year long. LSU came away with the regular season title, but unbalanced schedules put it against the Wildcats and Vols only once each. The Tigers are also without Will Wade and Javonte Smart for possible NCAA (and legal) violations, but there's plenty of talent on this roster surround Tremont Waters to push it toward a conference tournament title to match its regular season crown. Tennessee boasts one of the best frontcourts in the country with Grant Williams and Admiral Schofield, complemented by Jordan Bone, and Kentucky is flying high with Reid Travis, PJ Washington, Ashton Hagans and Tyler Herro. It would be a surprise if a team other than these three was able to win in Nashville.
DARK HORSE
It's hard to pick a dark horse for this one, but after looking at the bracket, Florida looks like the underdog most likely to make a run at this thing. First, the Gators would have to take care of Arkansas, which is no guarantee, but assuming they get through that test, the remaining matchups are relatively favorable. The second game would be against LSU, a team Florida split with and came close to sweeping the series after falling 79-78 in overtime in Baton Rouge on Wednesday. Next would probably be either Auburn or South Carolina, a much more favorable opponent than Kentucky or Tennessee. If you had to draw up a path to the final, this would be the best-case scenario.
BEST SET MATCHUP
10 Alabama vs 7 Ole Miss
Ole Miss is probably in the tournament even with a loss, but a win would guarantee it. Alabama might need to also beat Kentucky to get into the tournament, but a loss to Ole Miss would guarantee it. Conference tournament games between bubble teams always have the potential to be great, and with both teams out of other opportunities to impress the committee, it's now or never.
BEST POTENTIAL MATCHUP
3 Tennessee vs 2 Kentucky (Semifinal)
These two rivals split the season series, with each side dominating on its home floor. Now, we could be in for the rubber match on a neutral floor, and it's what the college basketball world deserves. Although LSU won the regular season championship outright, the unbalanced schedules and suspensions make me lean toward these two teams being the strongest heading into this tournament. In the quest for a one seed, one of these teams is going to have to get to at least the SEC Final, but only one of them can.
NBN'S PICK
2 Kentucky over 5 Auburn
Kentucky feels more well rounded than Tennessee to me, and the Wildcats are a much better team than whoever they'll face between Alabama and Ole Miss. LSU is the most vulnerable of the big three, especially without Wade and Smart and a scandal looming over its head. If Florida takes care of LSU for Auburn, the Tigers wouldn't even have to deal with those other Tigers, and Auburn comes into the tournament winners of its last four. Always go with momentum at this point in the season, and Auburn has it. But it doesn't have enough to take out Kentucky on a neutral floor with a one seed and a conference tournament title on the line for the Wildcats.