While the events in Washington D.C. and across the country in the middle of this week have understandably overshadowed the results of the Georgia runoff elections, the role WNBA players in swinging both races blue cannot be ignored following the victories of Rev. Raphael Warnock and Jon Ossoff against their Republican opponents, giving the Democrats control of the House, Senate and presidency for the next two years.
WNBA Players Help Swing Election
WNBA players' actions likely helped Ossoff, but they especially and explicitly helped Warnock, campaigning for him and against Atlanta Dream part-owner Kelly Loeffler. All summer and fall, countless WNBA players wore shirts with "VOTE WARNOCK" written across them and were outspoken against Loeffler, who criticized the Black Lives Matter movement on multiple occasions.
"Holy shit, we just flipped a Senate seat!" New York Liberty's Layshia Clarendon told Dave Zirin of The Nation. "Not only did we oust Loeffler but we helped a progressive candidate we truly believe in win. That is something I want to be clear about in our intention as a league – this wasn't simply a targeting of an owner for one comment, but an organizing around maintaining our values as members of the WNBA. I'm feeling like the power of collective action from athletes is just not starting to scratch the surface – the country better get ready."
Now for some other news from across the sport this week:
Nothing But News: Jan. 2-8, 2021
The entire Philadelphia 76ers team placed under quarantine after a player tested positive for COVID-19 during a game against the Brooklyn Nets.
Paul George and Marcus Morris of the Los Angeles Clippers said they support shutting down the NBA again after the storming of the U.S. Capitol by Trump supporters Wednesday and the announcement of no charges against the police officer who shot Jacob Black in Kenosha, Wisconsin, in 2020, which led to a short shutdown of the league at the time.
Seattle Mayor Jenny Durkan said she is "pretty optimistic" about the city welcoming an expansion NBA franchise into town to fill the hole left when the Seattle SuperSonics left for Oklahoma City.
The first NET rankings of the season were released for men's and women's college basketball. Gonzaga and Stanford came in at No. 1 in men's and women's hoops, respectively.
Following widespread criticism of Steph Curry following a difficult first week to open the NBA season, the Warriors superstar responded in a major way with a career-high 62 points against the Portland Trail Blazers.
Jeremy Lin will reportedly sign with the Santa Cruz Warriors, the Golden State Warriors' G League affiliate, in an attempt at an NBA comeback.
Mechelle Voepel on ESPN.com explained why Connecticut-Baylor is the best rivalry in women's college basketball right now.
Drake men's basketball is one of six teams left undefeated that have played at least five games. Mike Lopresti of NCAA.com broke down what you need to know about the Bulldogs.
What State Has the Most Division I Basketball Teams?
Almost every state has a Division I basketball program (sorry, Alaska). But who has the most?
Longest NBA Game Ever Featured 2 Teams That Don't Exist
This week was the 70-year anniversary of the longest NBA game ever played: a 75-73 six-overtime slugfest between the Indianapolis Olympians and Rochester Royals, with the Olympians coming out on top with a buzzerbeater. The game was instrumental in leading the NBA to implement the 24-second shot clock.
James Naismith Has Basketball Inventor Title Vacated
Raymond Tortuga reports on the ongoing saga surrounding James Naismith's pay-for-play scheme while head coach at Kansas in the late 1800s and early 1900s. The NCAA announced the legendary coach, who went 55-60 for his career, will be stripped of his title as inventor of basketball, as well as additional sanctions against Missouri men's basketball.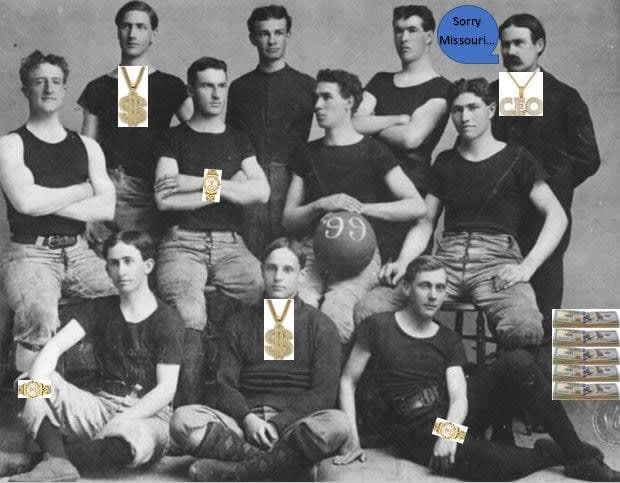 Who Will Win the Men's 2021 NCAA Tournament?
It's only early January, so we're a while away from crowning a 2021 NCAA Tournament champion. But that doesn't mean you can't decide who will do it now. Have your voice heard by voting in this poll, then look back in a few months to feel stupid.