Editor's Note: Mark Edwards was the head men's coach at Washington University in St. Louis from 1981-2018, amassing 685 career wins, 34-straight winning seasons from 1984-2018, 20 NCAA Tournament appearances, three Final Fours (2007-09) and two national championships (2008, 2009). This is the fourth and final installment of our series on him. We encourage you to take the time to also read Part 1, Part 2 and Part 3, all chronically over his coaching career.

Mark Edwards stayed at WashU for 37 years. If that sounds like a long time, it's because it is.
It's common for coaches to move up the ladder, bouncing around programs after a handful of years with the hope of ending in their dream position. But what if everything you wanted was already in front of you? What if you had already achieved the dream?

"One of the questions people often ask me is, why were you there for so long? My answer is, why not?" Edwards said. "I had a perfect platform for my philosophy. I had a perfect support system. We had two chancellors the whole time I was there, and one athletic director who hired me was with me for 34 of those years. I had no reason to leave."

He said opportunities are a two-way street, and he never pursued any other position while at WashU. If asked if he was interested in elsewhere, he would say no. He's confident he could have left if he wanted, but he was happy where he was, even when times were tough.

"My ambition was to prove that we could win national championships at Washington University. They provided me that opportunity," Edwards said. "Did I think we were going to win? I had to, because if I didn't, then I would be a phony. I would be standing in the locker room in 1982, I told those guys that our goal was to win a national championship. And perhaps at first it was like, 'Oh, yeah right,' but by the time they graduated, and every kid graduated, they really believed they had that opportunity. I think this, to me, was so important that my program was defined this way. So yeah, we were discouraged. I never once thought about leaving for that reason, and I think I'm very comfortable and confident that I've made the right decisions, did the right things and lived a life that was consistent with what I was trying to get our players to do."

In 1977, Edwards attended a clinic with Al McGuire as a speaker. During his speech, he made a comment that you can't win with smart kids. That stuck with Edwards, and it influenced his decision to take the WashU job in 1981. He wanted to prove McGuire and anyone who nodded their head at that speech wrong.

"That served as a little baseline for me to start thinking about because I like smart kids," Edwards explained. "I like kids who are inquisitive. I always enjoyed academics. I always enjoyed athletics. I always believed you could combine the two."

It was tough sledding to start, though. It took 27 years to build WashU from scratch into a national champion. That means nearly three decades of seasons ended unsatisfactorily and 26 teams that didn't reach the mountain top. Between winning the second national championship and retiring, nine more teams needed consoling at the end of the year.
The disappointment can be difficult for coaches and players to bear.

"When it happens, the emotions of it is like it's do or die. It is grieving," Edwards said. "You learn how to handle it. Can you apply that to your real life? It's not going to lessen the impact of it, but it will at least strengthen your resolve to get through."

Through his career, Edwards realized what sports are and how the emotions they bring, positive and negative, can be used as a guide for his own life and the lives of his players.

"I try to keep it in perspective by recognizing this fact: sports are manufactured crisis," he explained. "You set playing rules, and you set a goal of what you're trying to accomplish. You create an emotional situation that makes a crisis, and you either do it or you don't.

"Then, you walk away, and nobody died. There are no kingdoms lost. There's no financial ruin. You lost a game. But you suffered the same emotional crisis as people in life that they're going to face. When you hear coaches say that we are really just giving life lessons, what they're really saying is we are preparing ourselves emotionally to deal with crises we're going to face in life by manufacturing crises through sport."

Although winning a championship can be the goal, Edwards said people need to understand there's success in the middle ground. Your goals can be lofty, but you need to aim at something attainable first and work your way up.

"You don't necessarily have to get the championship to make a championship run," he said. "Sometimes I think we throw out roles. We say, 'You can be anything you want to be and do anything that you want to do.' But there has to be some other blurred line there, and that line is, if you make good decisions and pick wisely what you're going for.

"For instance, I remember once I was at a camp. I was talking about setting goals and pursuing things, and this little kid came up to me after the camp and said, 'I've set my goal.' I said, 'Oh really, what is your goal?' And he says, 'my goal is to be a 7-footer.' And I started chuckling, but you know, in a way, you have to define how goals are set in order to make them achievable.

"And so, this is part of life's lesson, and when I walked into that room with the team in 1982, and I asked them if there's a championship in this room, they didn't know what a championship was. It was my job to define that over the years. Eventually, this became an expected norm: this is what we're going for. Whether we made it or not, it was the goal of the program. Winning championships gave it legitimacy, but there's a lot of kids who didn't win it, and there's a lot of programs that never had that opportunity. But that doesn't mean it can't be their goal."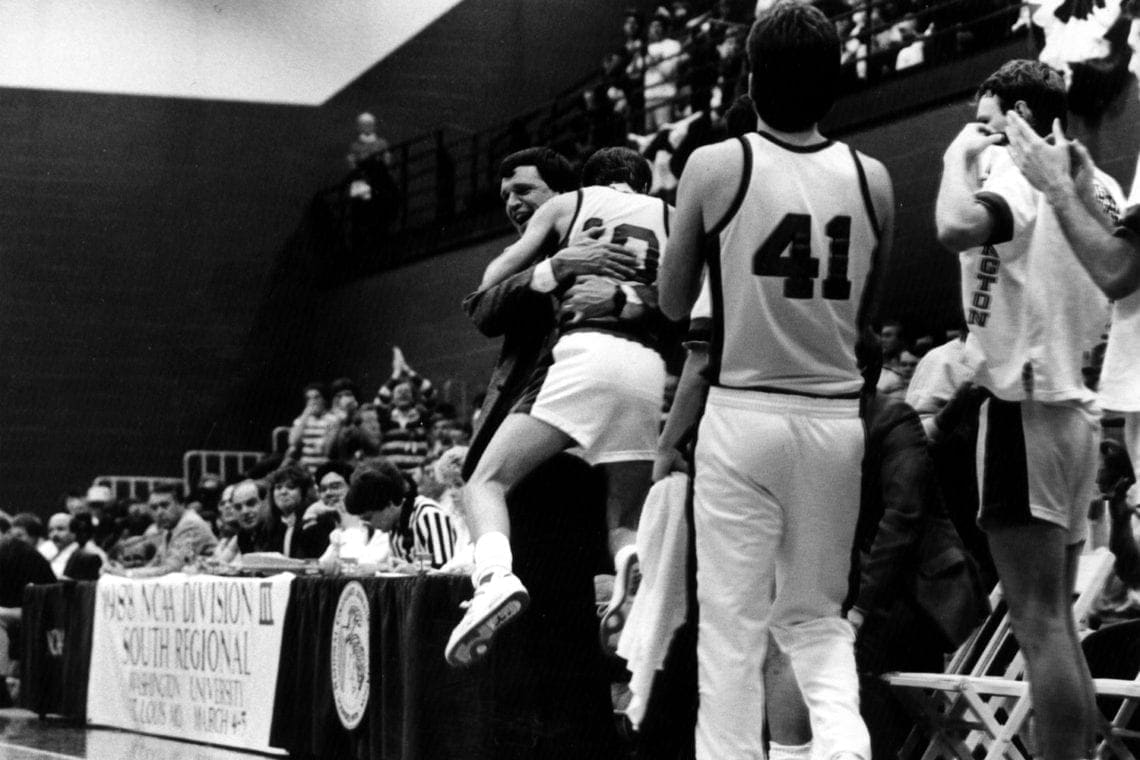 In his 37 years as head coach at WashU, nine seasons as an assistant at Washington State and the time he spent as a grad assistant, Edwards said it taught him how to recognize what really matters and what doesn't. Those same principles also made him a better coach.

"I think it helps you become a good basketball coach by learning how to define what is truly important in my life. What is truly important and what's something that's just desirable," he explained. "I think that as a basketball coach, we get so wrapped up in the goal that we forget about the people who we are trying to reach that goal with if we're not careful. The one thing I've learned is that the capacity to listen, and that you need to apply that to everything that you do and the people who are around you to try to understand what it is they need. This is probably more along the line of team formation, but in life it's the same way. It's a life formation. With your own kids, your grandkids, listening to them as to what it is they're struggling with and what they're trying to accomplish and being a support for it. That's what you do with a basketball team, too."

Beyond that, ensuring you have positive people around you is a valuable lesson Edwards learned from his years in coaching.

"It's taught me to surround yourself with people who believe in you and believe in each other," Edwards said. "I think my having done this over these years here at Washington University and surrounding myself with good people, assistant coaches, players, kids coming into the program are looking for something beyond just scoring points, have made this such a tremendous experience, and I think that's true in anything. You're always going to have people who are going to work to tear you down. Surround yourself with people who are going to work to build you up."

The lessons and people Edwards found at WashU helped keep him there for nearly four decades, but there was more that kept him in the coaching profession for so long. Part of it was the thrill of winning, but a large part was the challenge every year and day brought.

"There are some people who are perfectly content with doing nothing in life," he said. "They go to work every day, they come home every night, they have a family they enjoy, and they have no desire to move beyond that little bubble. That's their choice, and I think that challenges that you set, try to meet and conquer, they define the person that you are. It doesn't necessarily define your success in life. Some people want challenges. Look at politicians. Why would you want to be president of the United States? Some people want challenges, and this is how they function. That's what competition is all about. And some people don't. That's the nature of them.

"I found my level of challenge. I found my outlet in order to fulfill that, and it was at Washington University coaching Division III basketball. I have no regrets. Absolutely been thrilled with the way everything worked out."

In retirement, Edwards still lives in St. Louis and will attend WashU games, watching from the bleachers as a fan rather than a coach. Even in the midst of March Madness, he is enjoying the action away from the sideline.

"Everybody asks me, 'What's it like sitting up there and watching?" Edwards said. "I'm enjoying it. I think the one big thing that I have found since retiring, and now particularly since basketball has started this year, is I don't have the tension that I had before. It's not pressure, that's not it. It's just tension. The tension of wanting to be successful. The tension of wanting them to do and be good and to win and get a championship. You don't realize how much focus you put on that until you retire, and I just don't feel that tension."

As Edwards reflects on his career, with all the wins, the championships, the anguish of the defeats, the 283 players he coached in his years at WashU and the countless other meaningful relationships he made along the way, there's one fact that he's most proud of. It's not the national championships, the Final Fours, the 34-straight winning seasons or the All-Americans he helped produce. He thinks back to 1977 and what Al McGuire said at that clinic, and it confirms what he set out to prove all along.

"I'm most proud of the fact that we could win with smart kids," Edwards said. "That was the motivator from the beginning. We didn't have to compromise our values in order to provide championships."

Photography provided by the WashU Bears Athletic Department.