The regular season is over, conference tournaments have completed and Selection Sunday has came and went. The most wonderful time of the year is upon us: March Madness.

Winning a national championship is something special in every sport, but college basketball has the unique importance of the Final Four. With a tournament this large, breaking it down into four mini-tournaments is the way to look at it. Each region has its own twists and turns that give us four separate sets of storylines to follow. Let's go in-depth, region-by-region, to break down the 2019 NCAA Tournament.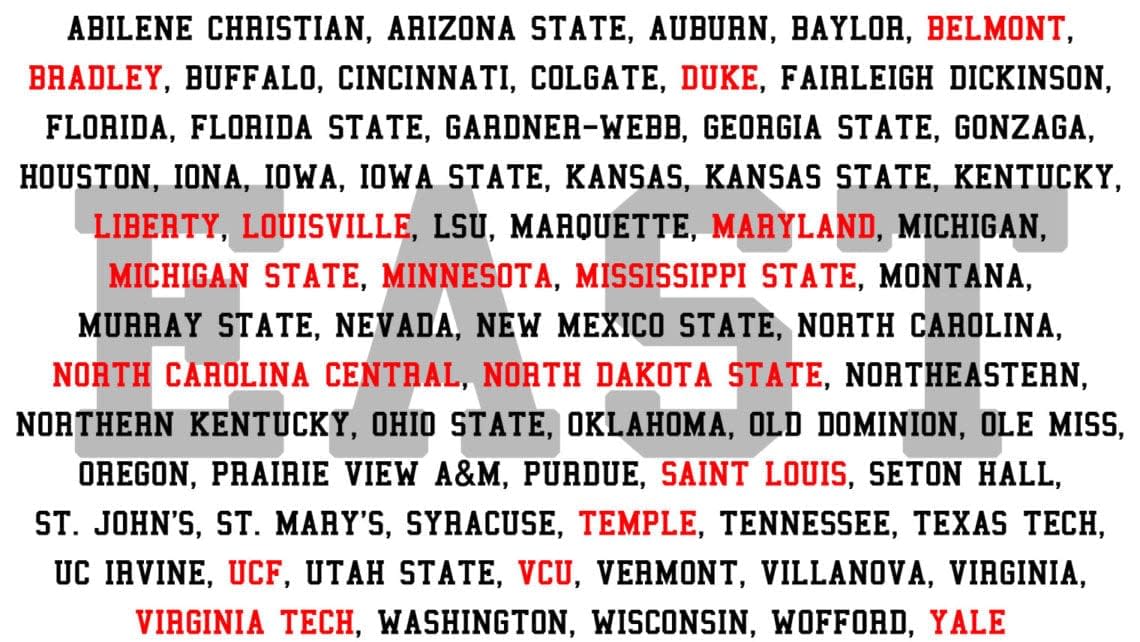 EAST REGION

My initial impression of this region is that it's Duke and Michigan State's to lose. There will be some potential pitfalls along the way, like a defensive juggernaut in VCU or a strange matchup with Tacko Fall and UCF, a Virginia Tech with Justin Robinson and an uber-talented LSU. But are any of them going to have enough to deal with Duke and Michigan State, who I believe have arguments as the best two teams in the country? It's the tournament, so anything can happen, but I certainly wouldn't predict anything but those two on a crash course for a trip to the Final Four.

Top Five Threats (By KenPom)
1 Duke (3),
2 Michigan State (4),
4 Virginia Tech (11),
3 LSU (18),
5 Mississippi State (21)
Most Intriguing First Round Matchup
9 UCF vs 8 VCU

This game isn't only interesting because both schools have three letter abbreviations they go by, there's on-court reasons, too. VCU is one of the best defensive teams in the country, and it's going to have to deal with two of the best scoring guards in the AAC in B.J. Taylor and Aubrey Dawkins, not to mention 7-foot-6 Tacko Fall, who completely changes the game whenever he's on the floor. The Rams average eight steals per game and have allowed opponents an effective shooting percentage of 43. But VCU can also struggle mightily on offense, and UCF is stingy defensively in its own right, especially with Fall protecting the rim. This is going to be a low scoring, knockout fight, and should make for some must-watch basketball.

Most Intriguing Possible Second Round Matchup
6 Maryland vs 3 LSU

I'm going with this matchup for one main reason: Bruno Fernando versus Naz Reid. Fernando established himself as one of the best players, let alone big men, in the Big Ten this season and has plenty of NBA hype of his own. He's a very physical player and Maryland's best scoring threat, and he protects the rim ferociously on the other end. Naz Reid would be one of his most difficult matchups of the season, though. Reid is not the best defensive player Fernando has seen, but he can match and even exceed Fernando's athleticism, and LSU could use its speed and athleticism elsewhere to help Reid deal with Maryland's big man. Reid runs the floor well, as does all of LSU when it wants, which has been an issue for the Terps for years.
The Tigers have three of the top six offensively rated players in the SEC and tons of weapons to score, but they also don't have a coach at the moment. There are so many ways this game could go, and I'd love to find out which one it is.

Most Intriguing Possible Sweet 16 Matchup
4 Virginia Tech vs 1 Duke

Duke lost to four teams this season, and one of those was Virginia Tech. It came without Zion Williamson, but the Hokies were without star guard Justin Robinson as well. Robinson is back for the NCAA Tournament, and Williamson returned from his injury in the ACC Tournament. With both teams at full strength and the game on a neutral floor, would it go the same way? At the very least, we know Virginia Tech possesses the tools to overcome the Blue Devils, and it shoots threes so well that if the shots are dropping, there's not much any opponent can do.
It's a total clash of styles, with Duke wanting to get up and down the floor and Virginia Tech preferring to work for the best shot and use large chunks of the shot clock whenever possible. A rematch between these two would be a battle, and this is probably Duke's second-biggest threat for the region.

Most Intriguing Possible Elite Eight Matchup
2 Michigan State vs 1 Duke

How could I pick anything else? These teams are third and fourth overall in KenPom and the eye test backs it up. Cassius Winston is perhaps the best point guard in the country, with an elite ability to get to the rim and either score or find the open man. His court vision is unrivaled, which would be crucial against a Duke team that uses its length, athleticism and aggression to anticipate passes, then turn defense into offense.
But, the Blue Devils are outright scary when clicking, and most of Williamson's points are impossible to stop. Tre Jones against Winston would be one of the best matchups of the entire season, and Michigan State's interior would be heavily tested against Williamson. It would be vital for the Spartans to dominate the glass as they normally do to limit Duke's run outs and to get second-chance opportunities of their own. If this game happens, it is going to be a battle of two titans who could have faced off in the national championship game and no one would have batted an eye.

Upset Alert
6 Maryland

Maryland has won three tournament games in seven seasons under Mark Turgeon, all against mid-majors with double-digits seeds and all in struggling fashion. The Terps have not won a tournament game of any kind since the 2016 NCAA Tournament and have petered out in March consistently.
Maryland looked totally lost in their only Big Ten Tournament game, a 69-61 loss to a Nebraska team with six remaining scholarship players, and the scoreline made it look closer than it was. Especially if the Terps get stuck with Belmont, a team with the ability to fill up the box score and shoot the lights out, it could be a one-and-done trip for them again.

Possible Cinderella
11 Belmont

It would be a bit more difficult with the extra game, but we've seen teams in Belmont's position make deep runs before. This team has the fourth-best effective field goal percentage in the country (58.2 percent) and average 1.4 points per possession.
According to KenPom, the average of adjusted opponent defenses the Bruins have faced ranks 221st, but there is real offensive ability on this team. Dylan Windler gets most of the attention, and rightfully so as the guard is averaging 21.4 points and 10.7 rebounds per game and a true shooting percentage of 69.4, one of the best in the nation. But guard Kevin McClain and center Nick Muszynski also score in double figures, and guard Grayson Murphy is right there with 6.6 assists per contest to throw in. The defense is a question, but this team can score enough to be a real problem.

NBN's Pick
2 Michigan State over 1 Duke

Both of these teams are good enough to win a national championship, but I give a slight edge to Michigan State because of the difference Winston can make. He has awareness at all times, and the ball is always in his hands. It is absolutely necessary to have at least one great ball handler to beat Duke's turnover-forcing pressure defense, which the Blue Devils rely on for easy baskets the other way.
The Spartans move the ball well and have a knack for finding the open man, averaging roughly 19 assists per game as a team, one of the most in the NCAA, and a large chunk of that can be attributed to Winston. Michigan State does commit 12.9 turnovers per game, though, which is something it will absolutely have to clean up to beat Duke. I don't think there are many teams in the country that can beat Duke with Williamson, but Michigan State is one of them.