The first big domino of the 2021 WNBA free agency fell last week: Candace Parker signed with her hometown Chicago Sky.
Candace Parker played for the Los Angeles Sparks since 2008 after the team drafted her No. 1 overall in the 2008 WNBA Draft. But her long 13-year run with the franchise, which included a WNBA championship in 2016, two WNBA MVPs (2008, 2013), a Defensive Player of the Year award (2020), a WNBA Finals appearance in 2017 and much more, concludes Monday when WNBA free agents are eligible to sign contracts with new teams.
Though born in St. Louis, Candace Parker's family moved to Naperville, Illinois, a few years into her life, where she was raised through high school. It has been reported that the allure of playing close to home in front of friends and family was the determining factor in the player's decision to leave LA for Chicago.
The details of the contract have not yet been disclosed.
While Candace Parker choosing Chicago is one of the major headlines of the 2021 WNBA free agency, there is still tons to go. Many massive names are available this offseason, and who knows what the league will look like when all the dust finally settles. With Monday marking the start of the signing period, Candace Parker is only the beginning of the madness.
Now for some other news from across the sport this week:
Nothing But News: Jan. 26-Feb. 1, 2021
Some other WNBA free agency signings have already happened, including Chelsea Gray leaving LA for Las Vegas, Aerial Powers going from Washington to Minnesota, and Natalie Achonwa leaving Indiana to follow Powers to the Lynx. There are still tons of names yet to make their call.
Not all WNBA free agents have elected to leave their teams. Diana Taurasi is staying put in Phoenix, and Sue Bird intends to remain in Seattle.
A war of words between players on the Golden State Warriors and Detroit Pistons flared up after Detroit's Rodney McGruder approached the Warriors bench and exchanged some words with Juan Toscano-Anderson after Golden State defeated the Pistons, 118-91, on Saturday.
Layshia Clarendon of the New York Liberty had successful top surgery earlier this month, she announced on social media over the weekend, sharing her experience with the world.
When Duke and North Carolina men's basketball play Saturday, it will be the first time since 1960 that neither team is ranked at tip.
The Supreme Court oral argument in Alston v. NCAA, the antitrust case against the NCAA, is set for March 31.
Get Caught Up on NBN Content!
Here is a recap of some of our content from the last week:
Lawrence O Payne 1935 All-Female Basketball Team
In 1935, Lawrence O. Payne was running for reelection to the Cleveland City Council. To help his run, he sponsored an all-Black women's basketball team in the area. This is its story, plus the story of one of its members, Jean Murrell Capers.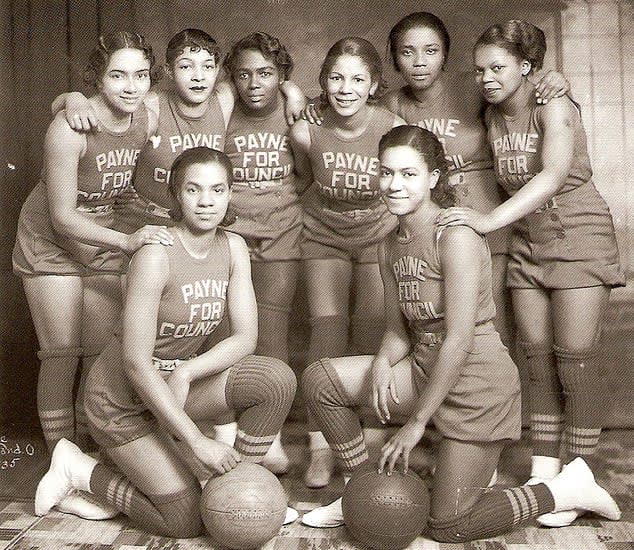 Asia Durr COVID-19 Struggles Put Career into Question
Asia Durr was diagnosed with COVID-19 on June 8. She is still suffering from its effects now more than six months later, and it has put the young WNBA player's career in jeopardy.
Scott Drew Arrested for Murder Again, Says K-State was Already Dead
Raymond Tortuga scooped up a fresh one here: Baylor men's basketball head coach Scott Drew was taken into custody on first-degree murder charges for the second time in a year following the brutal death of Kansas State men's basketball last week. From jail, he defended himself with claims that K-State had been long dead well before Baylor got to it.
Bracketology 2021: Predicting the Bracket (Jan. 29, 2021)
The second installment in our Bracketology 2021 series came out Friday, including all games played through Thursday, Jan. 28.