When Brianna McDaniel was 12, she took a trip with her family to see her relative's Tennessee farm. Being from the sprawling metropolis of Chicago, she hadn't experienced something like that before, but a little time on the countryside made a big impression.
"I would go out there early, at like 6 in the morning, to go feed the cows, the horses, all that," she explained. "I didn't know I would like something like that until I got out there."



Not only her willingness but her eagerness to get up and going in the morning at the farm was a big departure from the girl her parents were used to.
"We always joke at home that we can barely get her up in the morning, but whenever we go visit my family on the farm, she's up at 6 o'clock waiting on my great aunt and great uncle to go out onto the farm to do all the work there," Shamona McDaniel, Brianna's mother, explained. "That let us know that she really does love animals."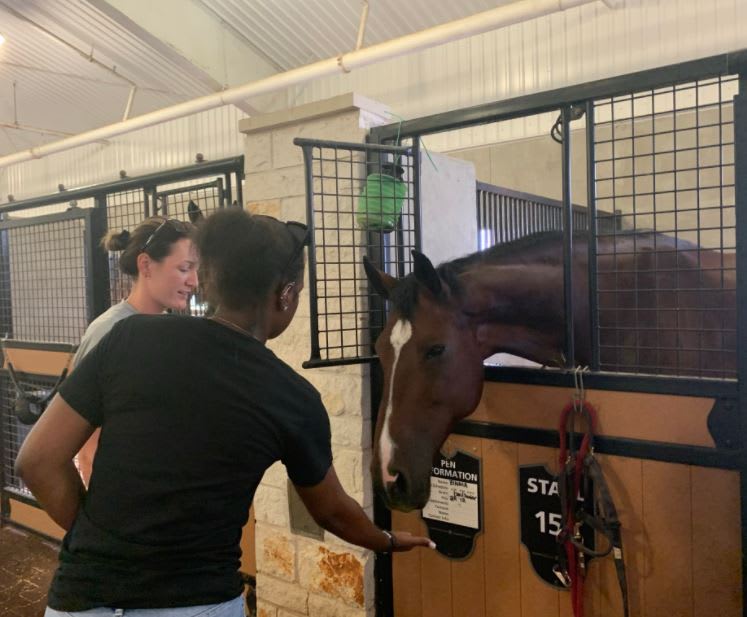 Now a few years and a couple more trips to the farm later, Brianna McDaniel's passion for animals has played a role in her college commitment.
When Brianna McDaniel isn't tending to her family's livestock, she's hooping. She's a top-40 recruit nationally in the Class of 2022 and been highly sought after by a number of power-conference programs across the country. On Thursday, Brianna McDaniel narrowed it down to one: Texas A&M. And animals had a big part to play.
Texas A&M has one of the top veterinary schools in the country, and that was a huge plus for Brianna McDaniel, who wants to be a large animal vet after basketball. On a recent visit to College Station, she was shown some of what the veterinary program at Texas A&M has to offer.
"They have a large animal and small animal hospital on campus," Shamona McDaniel said. "She was also able to visit where the equestrian team is, so she saw the horses and saw how the students are able to interact and help out with the horses for the team. She loved all of that."
There were other factors that tipped the scales in A&M's favor, too. Back in March, Brianna McDaniel suffered a torn ACL and partially-torn meniscus, which has kept her off the court since. At the time, she was worried it would affect her standing with the schools recruiting her. It didn't – she didn't lose any offers and all those recruiting her were supportive and understanding – but Texas A&M in particular stood out to her through the situation, Brianna McDaniel said.
"I chose Texas A&M, because they've been so loyal since they first gave me an offer," she explained. "They kept in contact and made sure I was okay. Coach Blair was actually the first person to talk to me about my knee and gave me reassurance about everything about my injury and that my offer still stood. That's what I needed at that moment. I was frustrated, because I heard of a lot of people losing offers when they got hurt, so it was a setback for me. But when I got my reassurance, I was fine. He was very supportive, made sure I was okay, and checked on me a lot."
Another factor for Brianna McDaniel was the addition of Vernette Skeete to the Aggies coaching staff. The two had previously built a strong relationship while Skeete was an assistant at Marquette, and when Brianna McDaniel found out she was heading to College Station, that was another reason to head south.
The connection gets even deeper on the A&M roster. Brianna McDaniel grew up playing basketball with sophomore guard Kay Green on the Lady Dribblers in Chicago and remained friends and fans of one another since. Now, they'll be teammates in Aggieland.
"They played together initially when they started playing as kindergartners," Shamona McDaniel said. "Kay has always been really supportive of Bri. She was a big part of this as well."
Brianna McDaniel does have some family in Houston, but that doesn't make Chicago any closer to Texas. She's going a long way from home, but she wanted to go away for college, or at the very least go away to somewhere warmer.
"I kind of wanted to get away from home, because I didn't want to go from cold to cold," she explained. "I wanted to go from cold to hot."
If hot weather is what she's looking for, then she undoubtedly made the right choice, even if it did surprise her parents at first.
"As a parent, of course it's a little nerve wracking, your baby going so far away, and she is the baby of the family. We were just like, 'Oh my God, seriously?'" Shamona McDaniel said. "But we've always told her that this decision would be hers and it would be based off of what she wanted, what she saw, and she wanted to go to Texas."
Her parents have one requirement, though.
"Me and her dad told her that we need to see her face every night before she goes to bed," Shamona McDaniel explained. "Every night before she goes to bed, she better FaceTime us."