"I'm 6-foot-4."

That's how Angela Dugalić would describe herself to someone who doesn't know her, and it's likely how they would describe her, too. It's not often you come across a woman her height, especially a high school junior.

But it doesn't bother Dugalić, who finds humor in everything. Her remark on her height was in jest and remains one of the many quirks that make her who she is.

"I pride myself in it," she said. "I'm the tallest girl in my school and fifth tallest in my whole school, boys and girls. I don't mind people talking about my height. I'm not exactly ashamed of it. I like my height, I like being tall, I like having long legs. It's an advantage in life, because I can always reach on top of the shelf while everyone else needs a stool."

It helps on the basketball floor, too, and has helped the forward curry offers from 32 programs. Dugalić narrowed it down to one this week, though, when the Class of 2020, Des Plaines, Illinois-product committed to Oregon on Monday.

COMMITTED ???????????? #ScoDucks pic.twitter.com/fGTuaowXA1

— Angela Dugalić (@Xxangela880xX) April 22, 2019
Besides her size, she provides plenty of talent for Kelly Graves and his Ducks. She helped lead Maine West High School to a 35-0 record and 4A Illinois State Championship last season and eclipsed the 1,000-point mark for her high school career in mid-February of her junior campaign.

But what she won't bring to Eugene is horror films.

School and basketball take up much of her life, but what little free time she has, she enjoys movies. Without prompting, Dugalić made her stance on the scariest genre known.

"I hate seeing people with bulging eyes and all this stuff. It isn't normal," she insisted. "To have someone coming back from the dead. No offense or anything, but just stay there. Don't come up here. They always come back for revenge or something, and somehow the innocent person always gets killed."

The Ducks also can't rely on Dugalić for healthy pregame snacks.

In the later stages of last high school season, Dugalić enjoyed a chocolate pudding before every game, sometimes more than one. She admitted to a lifelong affair with chocolate, and when she discovered its bastardized cousin in melted and whipped form, it was love at first bite.

"If anybody wants to give me a birthday gift: chocolate pudding," Dugalić recommended. "I could have a whole stash."

Before chocolate pudding entered the picture, Dugalić munched on chips prior to games and practices. She said she was so sensitive she used to get sick if she drank too much water during games. Now, she walks around with an iron stomach.

"I could eat a whole Subway sandwich, and I'll be fine during practice and during games as well," she explained. "I trained myself."

While Dugalić was forthcoming about her pregame ritual, her long-time AAU coach Jerald Davis had no idea. Davis has run Chicago Hoops Express for 25 years, and Dugalić has been one of his mainstays since she joined his program in late 2015.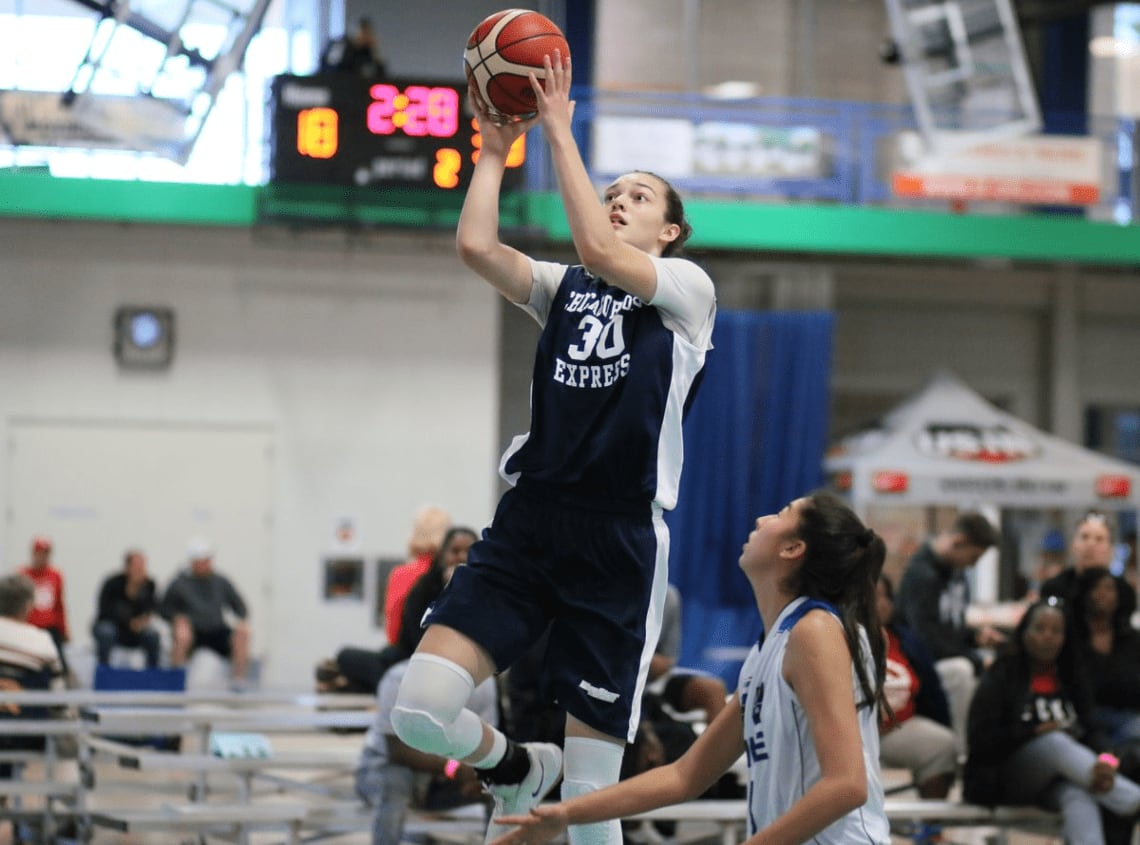 Dugalić kept her eating habits to herself, but there isn't much else the two don't share. Davis has been instrumental in helping Dugalić through the recruiting process and taught her much of what she knows about basketball, and he became close with the entire family in his time as her coach.

In his years of getting to know her, Davis discovered what he believes to be a star in the making, and not just because of her on-court ability.

"I knew Angela was going to be a big-time recruit. That was probably the top reason," Davis said of her personality. "Every single college coach she gets on the phone with pretty much falls in love with her. Her character, her demeanor, how she comes across, her genuineness of who she is: everybody embraces Angela. Everybody likes Angela."

What Davis admires most about his player, though, is her maturity. When he asks her to do something, she gets it done in a timely manner, a blessing considering a cattle prod might not motivate some people Davis deals with. She told him before that as someone who has lived her whole life in the Midwest, she wanted to use her basketball scholarship as an opportunity to see how a different part of the country works, and she has done that with her commitment to Oregon.

"Anything that Angela wants to do, she gets done," Davis said. "She's focused, she thinks bigger. The world is like an island for her. When you ask Angela a question, it's rare her answer is from a very narrow-minded or singular perspective. Her mind is wide open. She takes in so much of life."

But most telling was a story from last summer. Her parents went out of town, but she stayed so she wouldn't miss practice. But that meant her usual transportation was gone, so a teammate filled in. When that teammate had something come up, Dugalić lost her ride.

Davis offered to drive across town to get her, but Dugalić didn't want him to do that. Instead, she went online and mapped out a route to practice. With zero prior experience with public transit, she woke up at 6 a.m. and rode three different buses for two hours to travel the 25 miles to practice, arriving on time by 9:15 a.m.

"We were ready if Angela had called to go track her down," Davis said. "But I knew that if Angela had said she'd figured it out, I knew she'd figured it out. She didn't know that you have to pull the cord to tell the bus driver to stop, so of course she missed her stop, and then had to run back two blocks and almost missed the other bus. But I think that was the most adventure she had."

Dugalić was afforded a ride home, but Davis said the independence and drive she showed is indicative of her personality, as well as the creativity it took to piece the path together.
That creativity is something she uses on the court. While Dugalić can stuff the stat sheet, she loves to make things happen for players other than herself.

"I like telling people, 'You go here, I'll set the pick for you, and then you shoot the ball,'" she explained. "I like creating stuff. On the court, that's my canvas. That's my canvas, and I get to create whatever I want on it."

That's not all she likes to tell people. Davis said Dugalić is always the first one to speak at practice, and when she's on her way to warm up, she acknowledges almost every single player and coach in the program.

It's part of her leadership. When Davis's stepdaughter, also a high-level hooper, tore her ACL a few summers ago, among the sea of onlookers, it was Dugalić who reacted immediately.

"Angela was the first kid up and running around trying to find a trainer, trying to get ice, while other people, even the adults, are still sitting there," Davis said. "That's just how she is. She's the first one trying to find directions when we're going to the gym. She's the first one trying to find out what court it is that we're on. Her gentleness, her spirit, it's very engaging, and there's a certain warmth with what she responds that lets you know she's connected with you. It's just the whole aura, what comes off of her. It's that positive."

With her teammates, Dugalić always has a moment to spare. She shares a shoulder or smile when either are asked. For as great as she is, Dugalić needs those around her to succeed, and she wouldn't want it any other way.

"I enjoy being great together," she explained.

Photography provided by Gerald Davis.